Women and Interfaith
On the 21 – 22 – 23 of January 2009 was held in Damascus, under the patronage of the Syrian Canadian Women's Club and the Canadian Embassy in Damascus, in collaboration with the Syrian Public Relation Association and the Canadian Women for Peace Foundation in the Middle East[1], a Workshop to discuss the theme of Women and Interfaith. Assist to this workshop from the Syrian side, women that represent the wide sector of believer and secular women in the Syria society.
During the first day and after a welcome from Mrs Hind Kabawat, representative of the Syrian Public Relation Association on the strategic role of Syria as a source of inspiration in the building of civilization. Then were talks and discussions on religious diversity and similarities between religious beliefs of the world as mentioned in the Golden Rules of the Religions all over the world. And the role of women in the fight against racial discrimination and build bridges of compassion with the others, as well as exchanging experiences on the a.m. subjects.
In the second day, there were two short documentary films on Coexistence and Dialogue in South Africa and Nigeria. Follow a discussion about the Idea (concept) of the other, and the role of women for peace and non-violence in the world. At the end of the day, then there was a taking of photos and a distribution of certificate on the audience.
In day three, there was a religious tour in Damascus Old City, where they visit the Omayad Mosque, The Lady Raquia Mosque, The Christian Churches in Damascus Old City (The Myriam Greek Orthodox Cathedral, The Zeitoun Greek Catholic Cathedral and the Evangelist Church), And finally the Jewish Synagogue. In all these places they held joint prayers in Arabic, English and Hebraic. At the end, was set up a lunch, at Kabawat House in Bab Touma, that was attended by Dr. Mohamed Habash the representative of the Mufti of Damascus, Bishop Ghatas Hazim representing the Roman Orthodox Church, Bishop Isidore Batikha representing the Roman Catholic church, The Evangelist Bishop, Mr. Hasan Shhadeh Mufti of the Shiite community, the Canadian Ambassador and a number of well known secular figures of Damascus.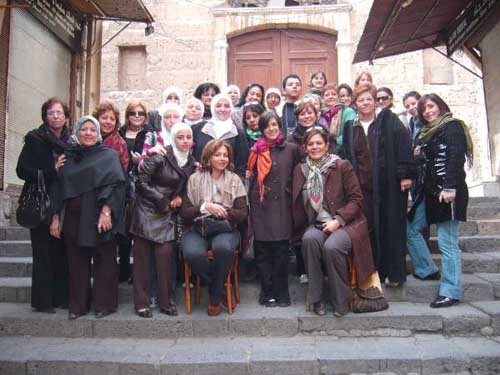 *** *** ***